Tire Repair near Me

We rely on our tires to keep us safe every day. That's why it's important to inspect and rotate them regularly. Our experienced service technicians here at Watermark Toyota of Madisonville proudly offer complete tire care services to drivers like you throughout the Madisonville, Owensboro, and Henderson, KY, areas.
Down below, you can learn more about common signs you need tire repairs and much more. As you read ahead, don't hesitate to contact us with any questions or to schedule your tire repairs today!
---
---
Signs I Need Tire Repairs
At one point or another you'll need to replace your tires. Once the tread or depth of the grooves along your tires wear down too much, they can't provide the necessary traction to help you travel and come to a stop safely. Here are a few signs that indicate it's time to bring your car in for tire repairs:
Low tire pressure light turns on
Cracking along the sides of the tires
Low tire tread all around or on one side
Strange vibrations when you drive
If you run over a nail or damage your tire another way, you may need to get it replaced. However, in some instances, it's possible to repair the puncture.
How Long Do Tire Repairs Take?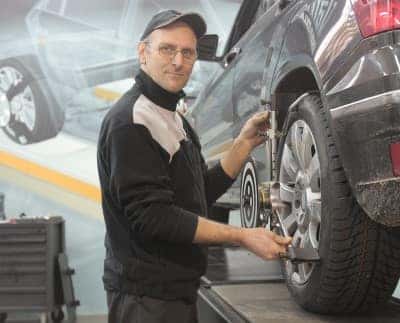 Tire rotations typically take about 15 minutes. Other types of tire repairs may take between about 20 and 30 minutes to complete.
Tire Rotations, Replacements, & Repairs at Our Service Center
At our service center we offer a comprehensive menu of tire services. For your convenience, we also offer Toyota Express Maintenance. If you need a simple tire rotation, we'll have you back on the road in no time. When we complete the rotation, we'll be sure to reset the Tire Pressure Monitor System light in your properly equipped model.
If you need to replace your tires, you can search for your next set online or speak with one of our tire specialists to determine the type that will suit your needs. We also offer rotating service and parts specials, so check back often to view our current deals!
Where Can I Schedule Tire Repairs near Me?
Whether you need air, a rotation, a repair, or a replacement, we have you covered for all types of tire care services.
Contact us at Watermark Toyota of Madisonville to schedule tire repairs near Madisonville, Owensboro, and Henderson, KY, today!
---